Villa la Estancia Beach Resort & Spa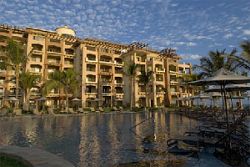 Villa la Estancia Beach Resort & Spa
This luxurious resort features 245 spacious suites with exquisite furnished balconies, offering unforgettable views of Banderas Bay's beautiful sandy beaches. Evenings bring the aroma of sumptuous cuisine wafting gently through the air as you watch the sunset. Each of the one-, two- and three-bedroom suites is stylishly decorated with marble floors, granite counter-tops, whirlpool, walk-in shower,
...

Serving discerning travelers for more than 40 years JourneseSM embodies the promise of a memorable vacation experience, with fine travel made easy through our knowledgeable Destination Specialists.
Every vacation is backed by our world-class concierge service and can be completed with upscale amenities, all classes of air service, including first-class and exquisite experiences including private options, ranging from helicopter excursions to romantic dinner cruises. We p
...