Journey to Antarctica: The White Continent
on National Geographic Endurance
Journey to Antarctica: The White Continent
Be in Antarctica this season!
Active, immersive expedition travel
Explore Antarctica in expedition style, aboard an authentic expedition ship is an incomparable experience and your guarantee of an in-depth encounter with all its wonders. Lindblad Expedition's pioneering polar heritage and 50 years of experience navigating polar geographies is your assurance of safe passage in
...
Adventure and Active
Gardens, Foliage, and Nature
Safari, Animals, and Wildlife
About National Geographic Endurance
About Lindblad Expeditions

Why Lindblad-National Geographic?
A Lindblad-National Geographic expedition is arguably the most exhilarating overseas adventure travel experience a person can have. Nothing else comes close to approximating its authenticity and all-five-senses engagement. We offer you the world's ultimate, authentic expedition experience: Discover the planet's most remarkable places, accompanied by experts able to illuminate all you see, and with cool tools to use to explore up close and personal
...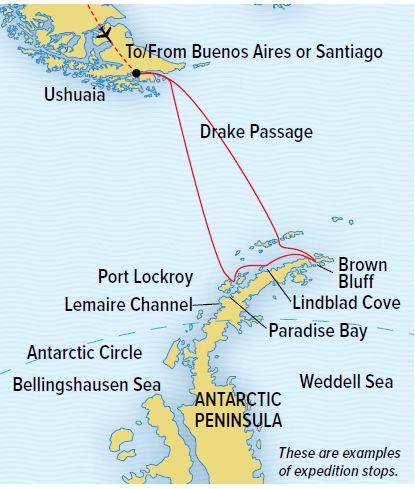 Day
Destination
1-2
U.S./Buenos Aires, Argentina (Explorer) or Santiago (Orion)
3
Fly to Ushuaia, Argentina/Embark
4
At Sea/Drake Passage
5-10
Exploring Antarctica
11-12
At Sea
13-14
Disembark Ushuaia/Fly to Buenos Aires (Explorer) or Santiago (Orion)/Home