3 Nights Aqua Mekong Cruise
on Aqua Mekong
From mid-August to mid-November, traveling up the river to Siem Reap and experience the Tonle Sap lake, a spectacular freshwater lake that is inhabited by more than three million people living around its bank. Start the day with a guided meditation on the sundeck. Then, begin your 3-night journey from Phnom Penh to Siem Reap, experiencing Cambodia's timeless pastoral serenity as you travel in luxury amidst these captivating landscapes. Visit Koh Chen, a silversmith village known for its fine craftsmanship. Bike option is available as we continue to visit the "Port of Pottery" in Kampong Chhnang. In Chhnok Tru, we slide into an ice factory and learn from locals what it's like to live in a town where schools, churches, pagodas, and even the karaoke bar and police station all float. Set off by private speedboat into the 22,000-hectare Prek Toal Core Bird Reserve, the last refuge in Southeast Asia for large water birds like the spot-billed pelicans, milky stork, black-headed ibis and the elusive masked finfoot. Sail back in time through Cambodia's thriving floating markets, temples centuries old, and learn the secrets of her rich cultural and religious traditions.
Adventure and Active
All Inclusive
Family Vacations
LGBT Travel
Luxury
Romance and Honeymoons
Aqua Expeditions caters to modern-day adventurers seeking active exploration in destinations best discovered by cruising. Highly experiential in nature, every Aqua Expeditions journey encompasses tailored activities with expert-guided small-group excursions, exceptional service with a 1:1 crew-to-guest ratio, a focus on sustainability and conservation, contemporary ship design as well as a world-class cuisine experience created by renowned chefs.
Aqua Expeditions began with the launch
...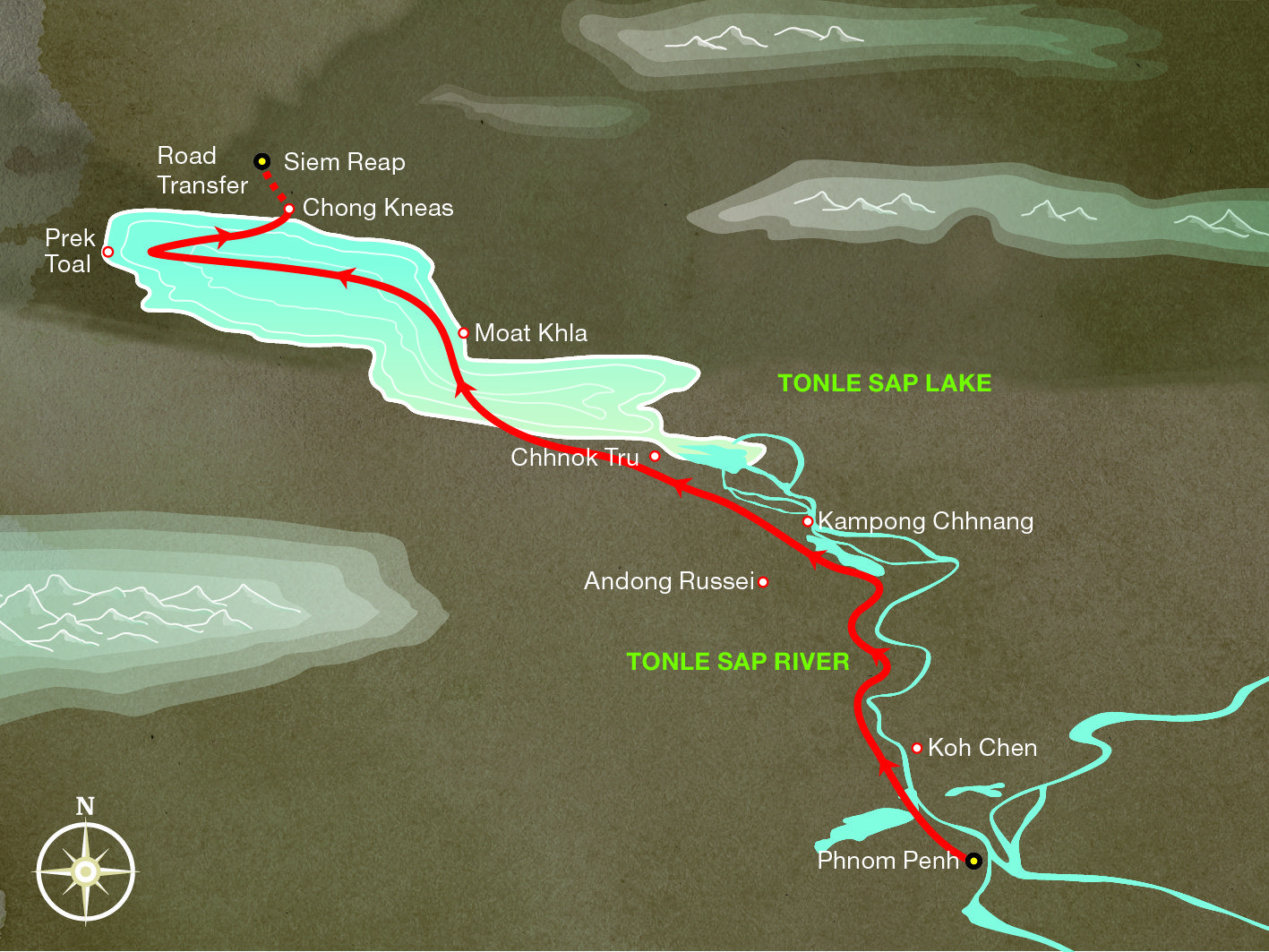 Day
Destination
1
Phnom Penh (PHN)
2
Koh Chen and Kampong Chhnang
3
Chhnok Tru and Moat Khla
4
Prek Toal and Siem Reap (REP)