Fabled Lands Of The North: Greenland to Newfoundland
on National Geographic Explorer
Fabled Lands Of The North: Greenland, Baffin Island, Newfoundland and Labrador
Leave the fast-paced, modern world behind
Embark the National Geographic Explorer for a thrilling exploration of the far north's ice-carved landscapes, sailing from Greenland to Newfoundland and Labrador. Navigate massive icebergs at the mouth of the Ilulissat Icefjord, and venture into Davis Strait en route to Canada's legendary Baffin Island. Along the way, encounter historic Viking villages, an abandoned Moravian mission, and the fascinating traditions of the Inuit communities who still live in these remote places. Hike the tundra on the lookout for caribou and arctic foxes; and seek out whales, walruses, and polar bears along the rugged coastlines by sea kayak and Zodiac.
Expedition Highlights
Explore two UNESCO World Heritage sites alongside a team of experts: glide among soaring icebergs at the mouth of the Ilulissat Icefjord, and ponder the remains of the 11th-century Viking village at L'Anse aux Meadows.
Meet Inuit artisans on Baffin Island and learn about their carving and weaving traditions.
Join our naturalists to observe polar bears, caribou, arctic foxes, humpback and minke whales, walruses, and more in their natural habitat.
Explore the untamed coasts of Newfoundland and Labrador, discovering spectacular fjords and cliffs on foot and by kayak and Zodiac.
Adventure and Active
Gardens, Foliage, and Nature
Safari, Animals, and Wildlife
About National Geographic Explorer
About Lindblad Expeditions
Going where awesome is for 50 years
Lindblad Expeditions goes to the most amazing places on the planet—40+ geographies in all. And they've planted a flag in many of them, deeply committing to remote wild places—like South Georgia and the Falklands; Patagonia, where they opened up Staten Island, 'the island at the end of the world,' for eco-tourism; and remote and beautiful regions of Polynesia, including the Marquesas Islands where few go.
Teams that do whatever it take
...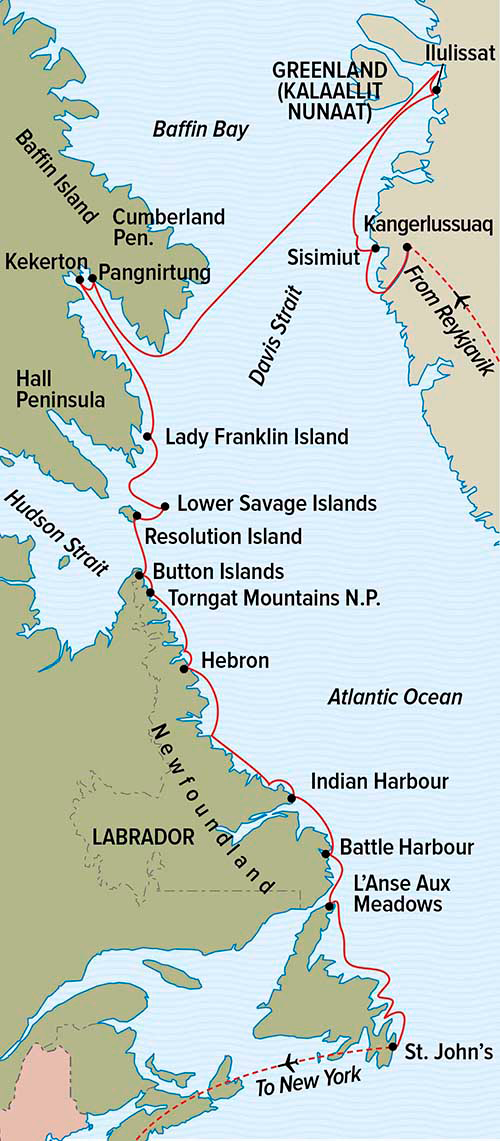 Day
Destination
1-2
U.S./Reykjavik
3
Kangerlussuaq, Greenland
4
Greenland's West Coast & Sisimiut
5
Disko Bay and Ilulissat
6
At Sea/Davis Strait
7
Cumberland Peninsula, Baffin Island, Canada
8
Hall Peninsula, Baffin Island
9
South Baffin Island
10
Button Islands, Nunavut
11-14
Exploring The Labrador Coast
15
L'anse Aux Meadows
16
Northern Newfoundland
17
St. John's, Newfoundland/ U.S.