Botswana's Timeless Wilderness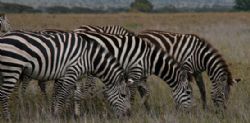 Botswana's Timeless Wilderness
Big Game, Splendid Isolation
If we had to pick the most miraculous African place of all, it might well be the Okavango Delta, where the 1,000-milelong Okavango River gives up on its search for an outlet to the sea and seeps lifegivingly into the sands of one of the world's most uncompromising deserts, creating a vast and mesmerizing oasis. As Frans Lanting wrote in his elegiac book Okavango: Africa's Last Eden, "The [Delta's] very existence in the middle of the Kalahari Desert is nothing short of miraculous . . . like a dream."

Botswana's wilderness is expansive and-to our scurrying senses-timeless, and the Okavango isn't its only dreamy place. Our under-two-week safari takes us to three others, right up near the top of African marvels: Chobe National Park and, up near the Zambian border, the exemplary Moremi Wildlife Reserve, quite close to another phenomenon of miraculous rarity, Victoria Falls.
Safari Highlights
Wending the animal-rich waterways and plains of the world-unique Okavango Delta by motorcraft, comfy dugout canoes, and well-provisioned 4-Wheel drive vehicles.
Private, festive welcoming dinner with Felix and Jane Pinto's dear Johannesburg friends.
Expertly guided nature walks and interactive discovery sessions geared toward the Okavango's marvelously adapted wildlife, its fascinating ecology, and sheer wilderness wonder.
Visit to the evocative San rock paintings in the Gubatsa Hills.
Beginning-to-trip's-end services of expert guides and facilitators and our ceaselessly alert Concierge Service.
National Parks and Preserves
Safari, Animals, and Wildlife
Back in 1966, Felix Pinto, a ranking member of the ex-British Kenyan government, started a luxury safari company. He also dabbled in gentleman farming on the family's rambling acreage outside Nairobi, which was even profiled in the prestigious American edition of Geo magazine. Micato's private safaris ultimately prevailed over farming and forty-five years and a Stanford, Harvard and Stanford Business School graduation later, the Pintos are joined by their (well educated!) children in the runni
...