Australia Uncovered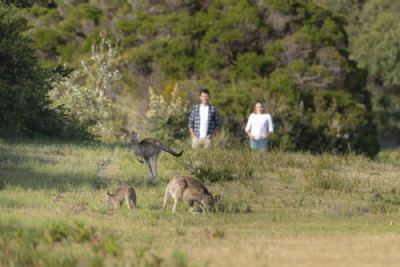 Australia Uncovered
Discover the hidden heritage of Down Under as you travel to unique Aussie locations and link up with Aboriginal guides. Visit the chic city of Melbourne and explore her metropolitan highlights as well as encounter unique Aussie wildlife on the outskirts of the city. Marvel at the magnificent Ayers Rock, a sight sure to overwhelm all of your senses as you begin to understand why it's so treasured by the local cultures. End your adventure in the iconic city of Sydney as you explore the famed sights and landmarks like the Sydney Opera House and Sydney Harbour Bridge.
Your Itinerary Includes:
3 nights Melbourne
Aboriginal Melbourne: Past and Present
Lanes and Arcades Walking Tour
3 nights Adelaide
Kangaroo Island - One Day Adventure
Classic Adelaide - Culture and Heritage
1 night aboard Ghan Train
1 night Alice Springs
2 nights Ayers Rock
SEIT Uluru and Sunset Tour
SEIT Kata Tjuta Sunrise Tour
A Night at Field of Light
3 nights Cairns
Daintree Dreaming - Traditional Aboriginal Fishing with Ngadiku Walk
Sailaway - Outer Reef Mackay Cay
3 nights Sydney
Totally Sydney - Bondi to Manly
Sydney Opera House Tour and Dinner
Meals: 2 breakfast, 5 lunches 3 dinners
Adventure and Active
Educational and Learning
Family Vacations
Luxury
Romance and Honeymoons
Safari, Animals, and Wildlife
Sun and Sand
Customizing the travel experience, Swain Destinations is the leading U.S. provider of completely personalized exotic vacation experiences. Since 1987, Co-Founders Ian and Linda Swain, and their dedicated team of destination experts have offered American travelers the opportunity to design distinctive trips to intriguing international locales, including Australia, New Zealand, the South Pacific, Asia, India, and Africa. From adventure-packed trips to leisurely getaways, Swain Destinations curates
...